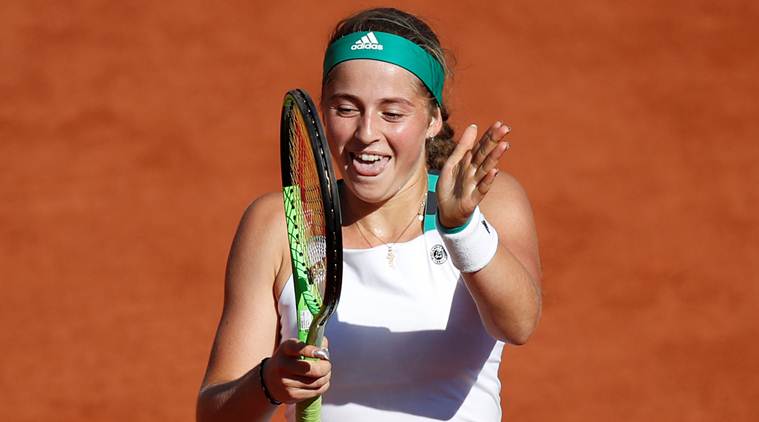 Jelena Ostapenko's preferred style of hitting powerfully, aiming for lines, and doing so early in exchanges. (Source: Reuters)
If things had gone a little differently, Jelena Ostapenko might be taking part in a ballroom dancing competition somewhere back home in Latvia on Saturday, instead of playing against Simona Halep in the French Open final.
That's because from about the age of 5, Ostapenko juggled her two hobbies, dancing and tennis, until picking one at 12.
Given her weekend plans, it seems as if she might have made the right choice.
Ostapenko, the first tennis player from Latvia to reach a Grand Slam final, still enjoys dancing _ "My favorite one is samba," she said earnestly the other day _ and practices four times a week. She thinks it lends itself to efficient on-court footwork "because you need to be very coordinated, and those small steps are helping."
When her coach, Anabel Medina Garrigues, visited Ostapenko in Riga, she went to watch a dance lesson.
"It's something that, for her, makes her feel better. Something she enjoys," Medina Garrigues said. "Why not keep going?"
That basically sums up Ostapenko's approach to tennis, too. And to life. That carefree attitude is evident in the way she takes high-risk, high-reward shots, regardless of the setting or circumstance or score, and in the way she'll laugh at her own answers during news conferences.
Advertisement
"She is smiling all the time," Medina Garrigues said. "She's young."
That she is, especially compared with others at the top of tennis lately. Ostapenko is the youngest finalist at any major since 2009; she turned 20 on Thursday, when she won her semifinal.
"It's always good to have a young talent do well," said Kim Clijsters, who was a day past her 18th birthday when she played in her first Grand Slam final, a 12-10 third-set loss to Jennifer Capriati in the 2001 French Open.
Advertisement
"If she wins, it'll be huge. If she doesn't, it is still the next step in her career," said Clijsters, who wound up with four major championships. "It gives a boost and a motivation and a confidence that will be her base. And she will keep going from there. And, obviously, confidence is something that's very big."
Especially for Ostapenko's preferred style of hitting powerfully, aiming for lines, and doing so early in exchanges. It's quite different from Halep's more defensive-minded approach.
There are other differences between the two.
While Ostapenko is ranked only 47th and is the first unseeded finalist at Roland Garros since 1983, Halep will move up to No. 1 for the first time if she wins Saturday. Plus Halep, who is 25, is not completely new to this sort of stage. She was the runner-up to Maria Sharapova in Paris three years ago, and has been a Grand Slam semifinalist three other times. At lesser events, she has won 15 titles.
"Today, I just try to relax. Of course I'm nervous, but it's nice feeling," Halep said Friday, when she spent some time in the stands at Court Philippe Chatrier, watching Andy Murray face Stan Wawrinka in the men's semifinals.
Looking ahead to Saturday, Halep said: "Of course, this match is really important, and I will not hide the heaviness that it has."
Advertisement
Ostapenko, meanwhile, could become the first player in 20 years to claim her first career tour-level title at a major. She had never been past the third round at any Grand Slam tournament before this week. Her previous French Open experience consisted of a first-round loss last year and a loss in qualifying the year before that.
"I have the mentality to win, but it's going to be tough," said Halep, who tore a ligament in her right ankle last month, putting her participating in the French Open in doubt. "I expect her to give everything she has, to hit all the balls, to play with confidence. But I'm confident, as well."
Advertisement
As for who might win, Halep's semifinal opponent, second-seeded Karolina Pliskova, has some thoughts.
Also Read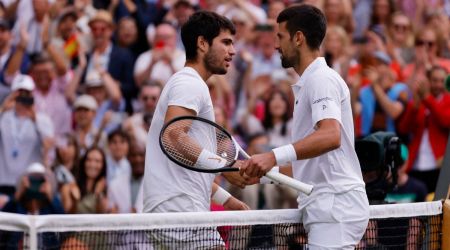 Novak Djokovic and Carlos Alcaraz set to meet again in group stage of Dav...
Watch: Jannik Sinner wins a 46-shot rally against Tommy Paul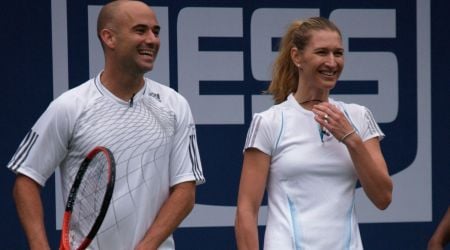 Does Steffi Graf ever age? Husband Andre Agassi has the perfect reply
Boris Becker's wife terms the tennis great as 'a devil'
"No doubt that Ostapenko, she's having a good run here, and she's dangerous," said Pliskova, the runner-up at last year's U.S. Open. "But I would bet everything (that) I have on Simona."